Summer Reading: June 8 - August 1, 2020
The Spring Valley Public Library's 2020 Summer Reading Program is designed to engage all age groups in exploring books and activities. The program is free and there are no fees for any of the events or activities.
Three age groups:
Read-to-Me's (Children still learning to read)
Independent Readers (Grade-schoolers tackling chapter books)
Teens (Students entering 7th grade or higher).
As you read books and engage in the activities, you are eligible to win badges and points. For each reading program there is a reading challenge in addition to complimentary activities including fairy tale themed take-home STEM kits, story unscrambles, coloring sheets, writing prompts, scavenger hunts and more. Readers earn tickets to allocate toward prizes for passing program milestones.
The best way to track your progress is through the Beanstack app or website. Beginning June 8, 2020, you can start recording your reading time and participate in the activities, located exclusively in Beanstack. If you created an account in previous years, you can use the same account.
The program ends on August 1st with the drawing for prizes on Monday, August 3. Winners will be notified by phone and/or email.
Alternately, if you do not have internet access at home for Beanstack or prefer a traditional approach and would like a printed hard copy of your child's reading log, please contact the library to register your child and to schedule a time to pick up a summer reading log.
Contact the library to get started!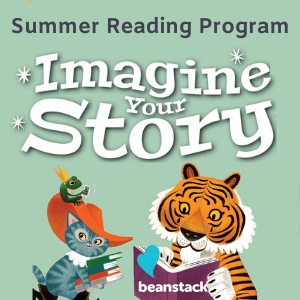 How Do I Get Started?... The Beanstack app!
To get the most out of your summer reading experience, we recommend that you create a Beanstack account.  Parents can also create accounts for their children.  In Beanstack, you can view and complete the available activities, log the minutes you have read, write book reviews and more.  You will receive tickets as you progress through the program and can apply those tickets toward a prize drawing at the end of the summer program on August 1st. To register, visit the Beanstack website or login through the app.
Beanstack app available for iOS and Android.
Click here to go to the Spring Valley Public Library Beanstack page
Click here for additional registration instructions if you get stuck!
Beanstack will automatically direct you to the appropriate activities based on your age.  If you wish to be contacted about prizes and drawings, please include an email address or telephone number as part of your Beanstack profile.
If you have any questions about the program, please contact library staff at 715-778-4590 or email dodger@svlibrary.org.
Spring Valley Public Library
E121 South 2nd St.
Spring Valley, WI
54767-0217
715-778-4590
FAX: 715-778-4595
Hours
Monday 10-7
Tuesday 10-7
Wednesday 10-7
Thursday 10-7
Friday 10-5
Saturday 10-1
Available Services
Public Computers
Fax: $1 for first page; 25¢ for pages after
Copy/Printing: 10¢ for b/wh; 25¢ for color
Scanning: Free of charge
Laminating (8 1/2 x 11 only): $1/sheet
Proctoring Services for Student Exams
Federal/State Tax Forms & Instructions: available in print or printed from online free of charge.